The Catholic Pontiff, Pope Francis on Wednesday released a video statement in which he paid tribute to seafarers and fishers, and acknowledged the difficult challenges they have been forced to endure due to the Covid-19 pandemic.
Speaking directly to seafarers and fishers, hundreds of thousands of whom have been stranded at sea with no access to shore leave or crew changes since the beginning of the coronavirus pandemic, Pope Francis said, "In these past months, your lives and your work have seen significant changes; you have had to make, and are continuing to make, many sacrifices."
"Long periods spent aboard ships without being able to disembark, separation from families, friends and native countries, fear of infection …All these things are a heavy burden to bear, now more than ever," the Pope added.
The International Transport Workers' Federation (ITF) applauds Pope Francis for recognising the unsung heroes of this pandemic – seafarers and fishers. These heroes have continued to transport 90% of the world's cargo, ensuring essential goods and medical supplies reach their final destinations, and continued to fish and supply the world with seafood.
Despite the vital roles seafarers and fishers are playing during this pandemic, some governments have failed to stand up for these key workers' basic human rights, particularly to return home at the end of their contracts, as some seafarers have been stranded at sea for as long as 15 months.
As countries have kept their borders closed thus preventing crew changes for seafarers, this issue has turned into a humanitarian crisis. The desperation of tired and stranded crew is growing. The ITF is receiving a growing number of messages from seafarers. These messages are full of despair, frustration and growing hopelessness due to the unending uncertainty they have been placed in.
"Pope Francis' praise and prayers for seafarers and fishers who have been impacted by this pandemic continues to illustrate the gravity of the situation facing these workers. The ITF, along with our social and industry partners, renew our calls for governments to step up to the plate and help facilitate crew changes. The flag states have failed in their responsibility for protecting the human rights of seafarers," said ITF President Paddy Crumlin.
"Governments have neglected their responsibilities in upholding human rights thus far, and the human misery we are seeing across the world's oceans is the consequence. For many seafarers of faith, they are looking for leadership from governments, including their own, to open their borders and show compassion in this time of crisis."
"Governments now have the opportunity to take heed of the Pontiff's message by giving seafarers the visa and travel exceptions they need to leave these ships and be relieved by fresh crew," said Crumlin.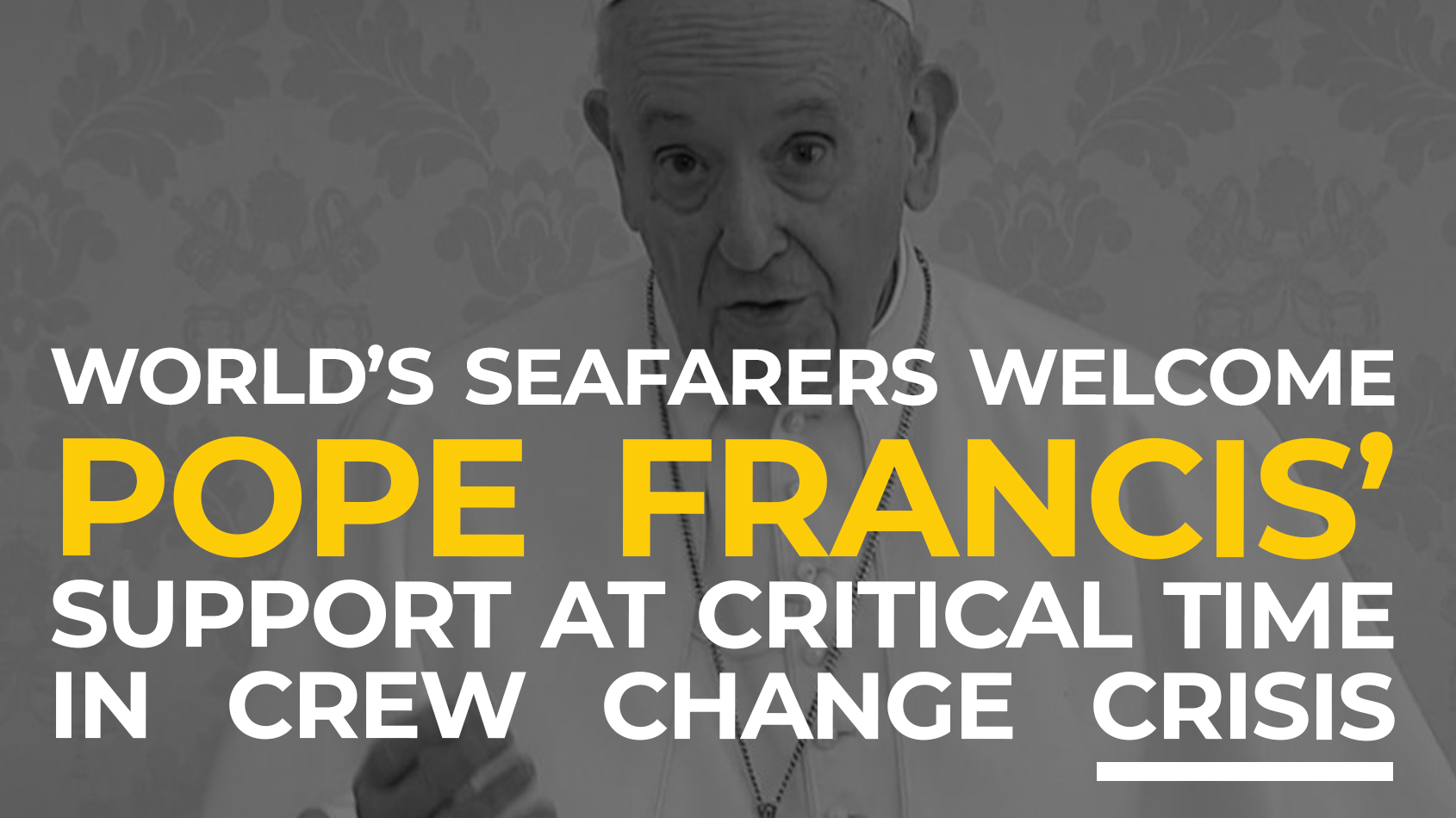 Pope Francis' statement follows the first summit of transport union leaders, manufacturers and employers at the Vatican in March 2019 hosted by the Chancellor of the Pontifical Academy of Sciences.
"Last year the ITF committed to an ongoing dialogue between us, the Catholic Church and faith-based organisations, and more importantly we set a shared vision for promoting human and trade union rights and confronting some of the biggest challenges facing contemporary society including the promotion of social, economic and environmental justice. We look forward to the opportunity to continue this important initiative," said Crumlin.
"We can see through the current coronavirus pandemic the scale of the challenges we face, particularly those arising out of this crisis that have the potential to exacerbate existing inequalities especially for women and informal workers. This reinforces the ongoing need for dialogue and cooperation between unions and the church to protect jobs, end exploitation and safeguard trade union rights," concluded Crumlin.